Well , The Wizard didn't do so bad with his pics....actually I 'm very glad Reese got the Actress nod , I just thought Felicity was a tougher role , but being Johnny Cash's wife wasn't easy either.....So 14 out of 21 picks right !!!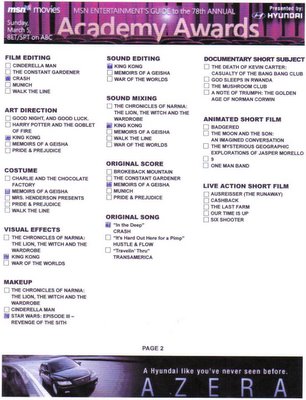 The Wizard didn't vote on a few awards on page 2 .....since he had no idea on any of them !!!

MSN Movies - 2006 Academy Awards
Allrighty ! It's almost that time so let The Wizard post his picks for the OSCARS....if you want to print your own ballot , hit this link to MSN Movies and download and print yourselves a clean sheet.... the winners and my results tomorrow !!!!